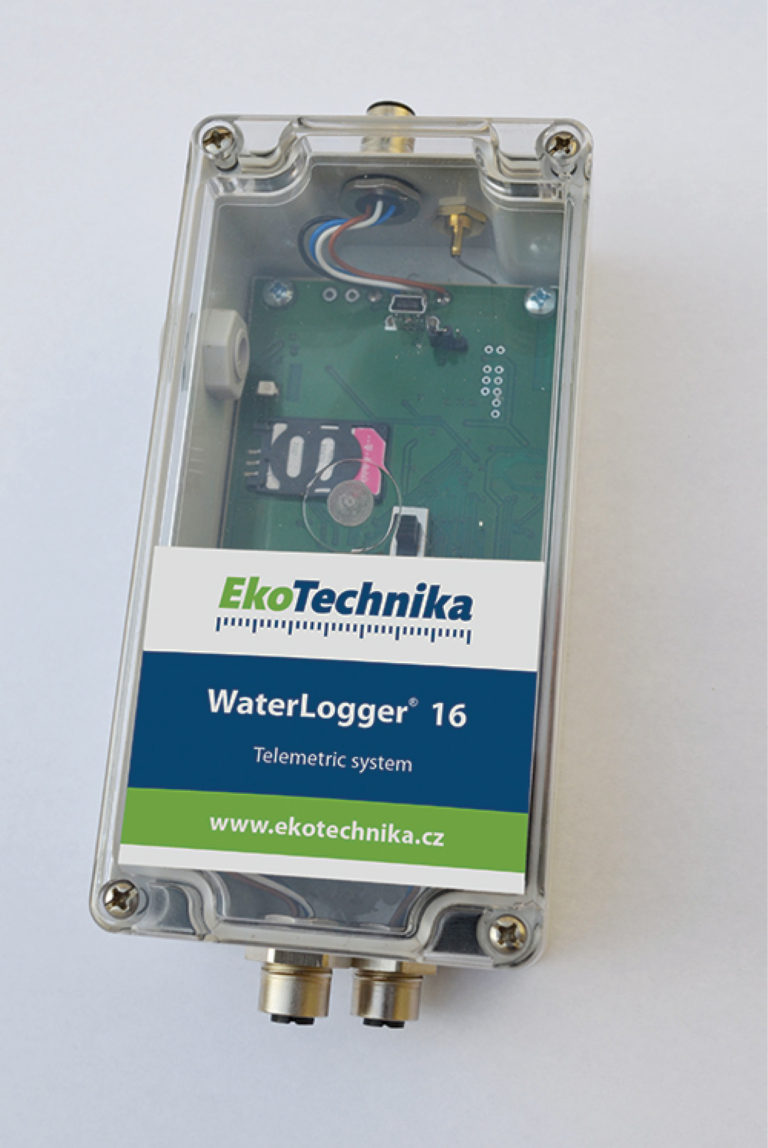 Waterlogger 16
– Telemetry system for data transfer from sensors with serial communication
– Compact dimensions/size – posibility of placement inside the monitored borehole with diameter from 95 mm
– Tripple data backup
– Two-way communication GSM / GPRS
– Station parameter changes applicable via Internet
– Optical communication with Levelogger  sensors (Solinst Canada)
– Automatic atmospheric pressure compensation by means of inbuilt barometric sensor
– Easy parameter setting through PC and USB wireless Data transfer to email, ftp server or to internet application EnviroDATA
– Possibility of warning emails through EnviroDATA® application when exceeding limit values
– Software free of charge
– Waranty 24 months
Waterlogger EWS 2
– Telemetry system for early warning and data transfer from sensors and many other hydrologeology a met- eorology sensors
– Compact and sturdy casing
– Tripple data backup
– Two-way remote communication GSM / GPRS Directing data to email, FTP or EnviroDATA application
– Automatic atmospheric pressure compensation by means of inbuilt sensor
– Warning SMS messages when exceeding limit levels sent up to 16 telephone numbers
– Sending current measured data on demand by SMS Configuration via USB interface (RS232, RS232/485)
 – Typical use : Water level measurement, temperature and electrical conductivity of surface and ground water, limnigraphic stations and anti-flooding measures, meteo stations with soil sensors, pumping tests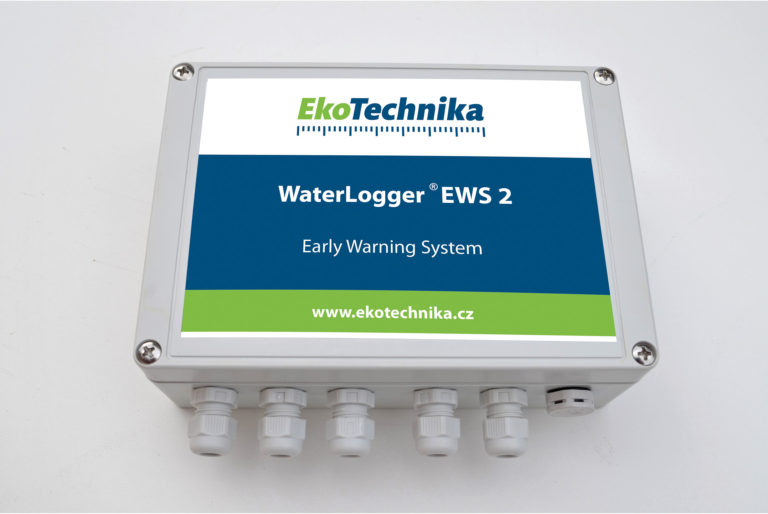 Watersampling GIGANT pumps for regulator GR-4
– Proven high quality Gigant and Booster pumps used in the sets
– 4 sets of pumps avaible for depths of water from 8 to 36 m
– Watertight coupling between the pumps and cables
– Diameter of pumps only 37 mm
– Supply voltage of 12 VDC via connection to your car battery (external battery is also possible)
– Special 4 wire cable
– Splash-water tested connection for the GR-4 pump regulator
– Inexpensive PE tubing dia. 10/12 mm connectable
– For water sampling and well purging it is necessary to use the following equipment which is not included in the Gigant sets: Pump regulator GR-4, 12 V battery, Tubing, mostly inexpensive PE, diameter 10/12 mm
Pump Regulator GR-4 for GIGANT Pumps
– Enables connection to Sets of 1,2,3 and 4 Gigant and Booster pumps to a standard car battery
– Frequency converter, delivered simultaneously, guarantees optimal voltage even when long cables are used
– Powered by a typical 12 V car battery (or external 12 V battery if is desired)
– Safe supply voltage of 12 V
– Regulation of outflow from 0 – 100 % (low flow sampling is possible)
– For water sampling from monitoring wells at depths of up to 36 m
– Protected against pump overheating and deep battery discharge
– Technical specifications you can find in the Datasheet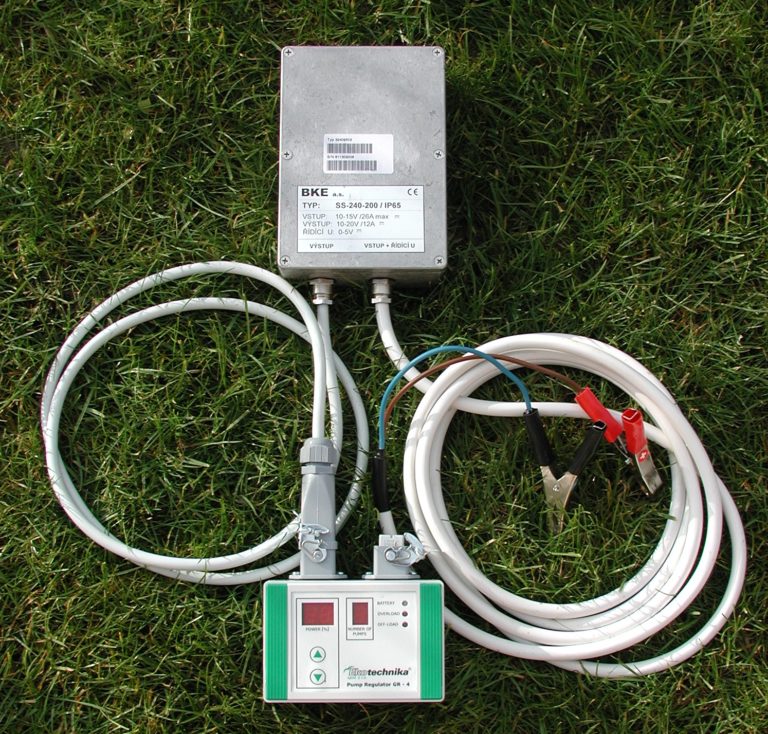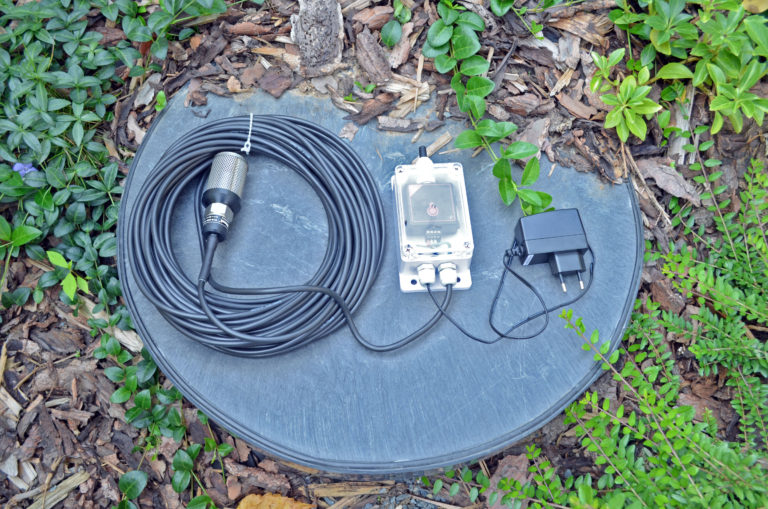 LevelWatch – Water level alarm
– Instrument for remote warning of water level change above and under monitored level
– Information transfer through GSM network by SMS message to mobile phone or by calling
– Communication through miniature GSM communicator with its own SIM card
– Water level is monitored by highly reliable compact capacity sensor
– Possibility to ask questions by SMS to ascertain configuration and condition of the instrument
– Power source 12V DC
Communication parameters are programmable by user:
– Through SMS: Message text when level drops below sensor
– Message text when level rises above sensor
– Possibility to send message up to 6 mobile numbers
– Delayed message, block time for repeated message
Typical use: private wells, water tanks, rain tanks
FireFly – Electronic water level meter
– Electronic water level meter Firefly is based on measuring electric conductivity changes between its electrodes.
– When the sensor is submerged in a well or a geology borehole and reaches the water level, a light source on top of the sensor is switched on.
– The light is visible from the ground surface. Subsequently, it is possible to read the distance between water level and the ground surface on the flat tape.
– For suspension of the sensor a standard steel flat tape is used.
– The entire electronics including the battery is mounted inside the device.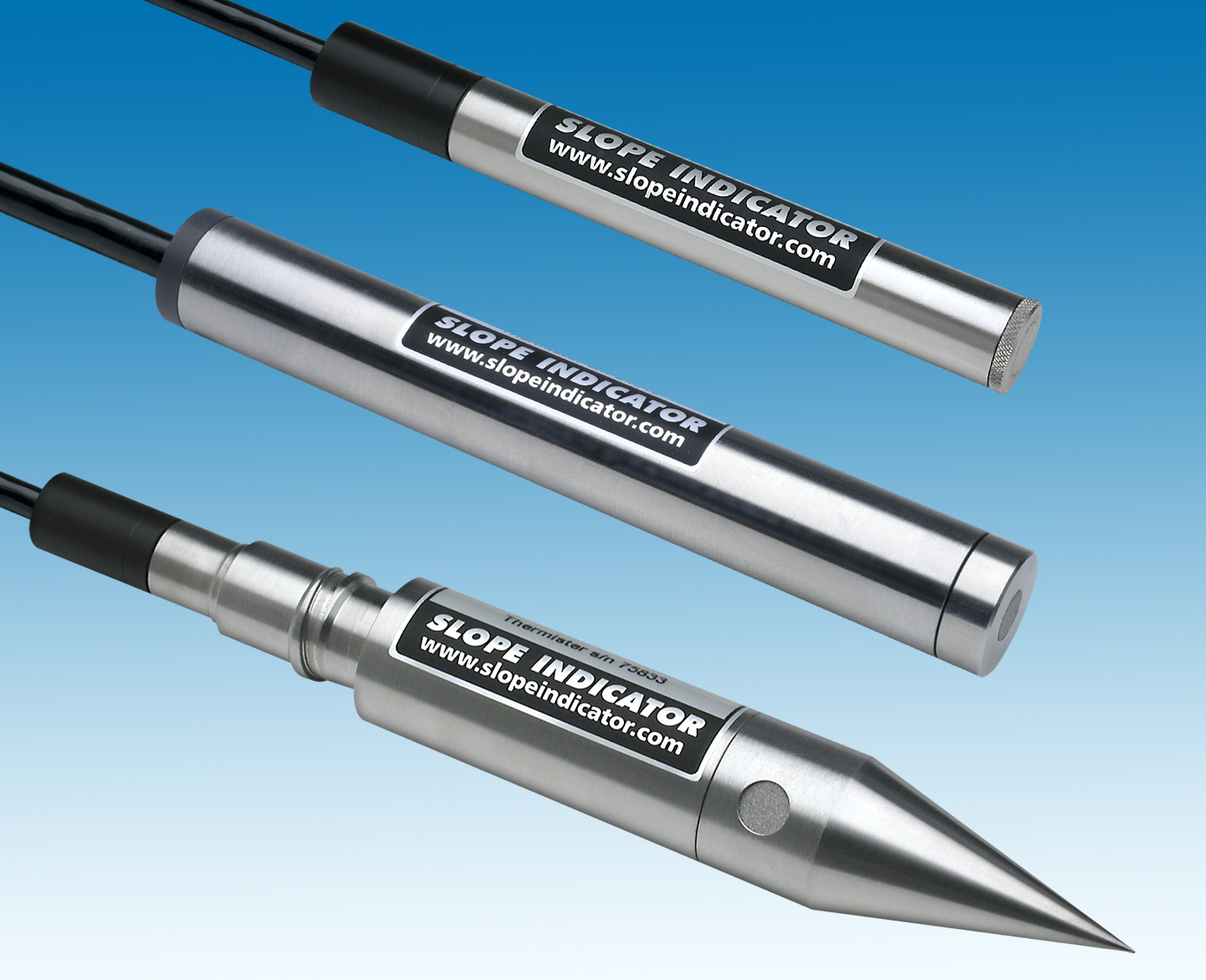 Piezometers
– Piezometers measure pore-water pressure and ground water levels
– Understanding initial site conditions
– Determining safe rates for placement of fill
– Predicting slope stability
– Designing for lateral earth pressures
– Evaluating the effectiveness of drainage schemes
– Checking the performance of containment systems
Serial HD In-Place Inclinometers
– Ideal for data logging and real-time, remote monitoring for critical applications such as construction control
– Monitoring landslide areas above dams, highways, and railroads to provide early warning of slope failure
– Monitoring ground movements induced by tunnel construction and excavation
– Monitoring deformations of embankments and retaining walls
– Sensors are installed in a ABS-inclined tube with a diameter (48 mm, 70 mm and 85 mm)
– Variable length and spacing of sensors
– Possibility of remote transmission and alarm messages via data loggers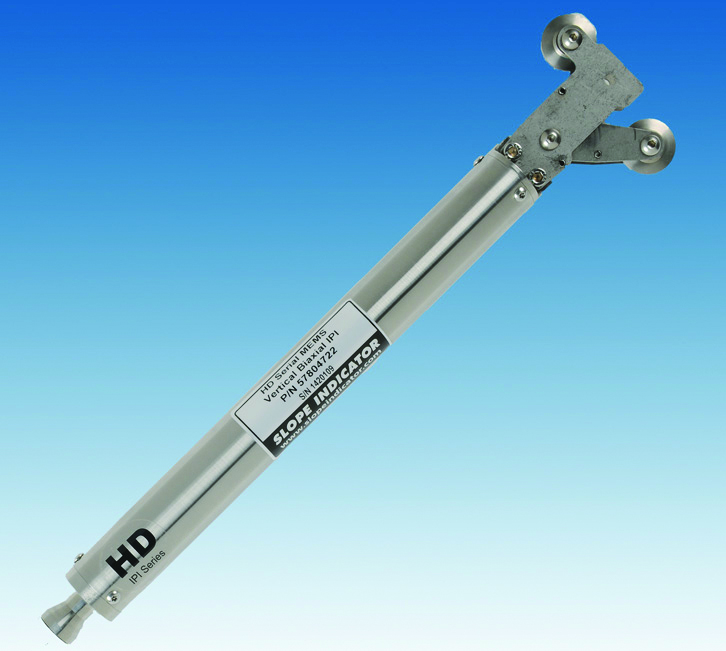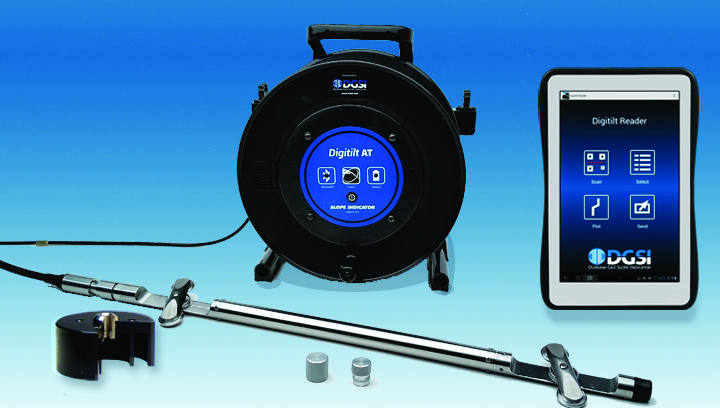 Digitilt AT System
– Mobile inclinometer for monitoring landslides, deformation of underground walls, embankments etc.
– Digital probe for very precise measurement
– Bluetooth reel provides forty hours of operation on one charge and is available with 30, 50, 75, or 100 m of cable
– Easy to carry and easy to handle, the lightweight control cable is also easy to read
– Sensors are installed in a ABS-inclined tube with a diameter (48 mm, 70 mm and 85 mm)
– The modern Android OS supports high-resolution screens, touch-screen interfaces, and full internet connectivity
– Expanded Trade-In Program – DGSI has now expanded the program to replace your old inclinometer systems (DGSI "Classic" Inclinometer System, MEMS Digital Inclinometer Systems from Geokon, Inc., RST Instruments Ltd., and Sisgeo Srl.)
GeoFlex
– A real-time alternative to the traversing probe type of inclinometer, the GeoFlex system is a string of closely spaced MEMS sensors that employs a chain of sensors and does not require an on-site operator
– It is ideal for data logging and real-time, remote monitoring for critical applications such as construction control
Typical applications include:
– Monitoring landslide areas above dams, highways, and railroads to provide early warning of slope failure
– Monitoring ground movements induced by tunnel construction and excavation
– Monitoring deformations of embankments and retaining walls
– Monitoring deformation of deep foundation elements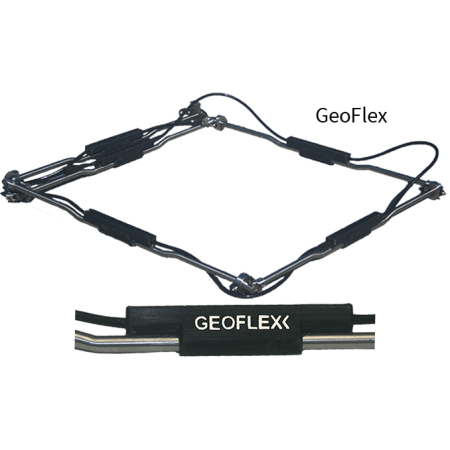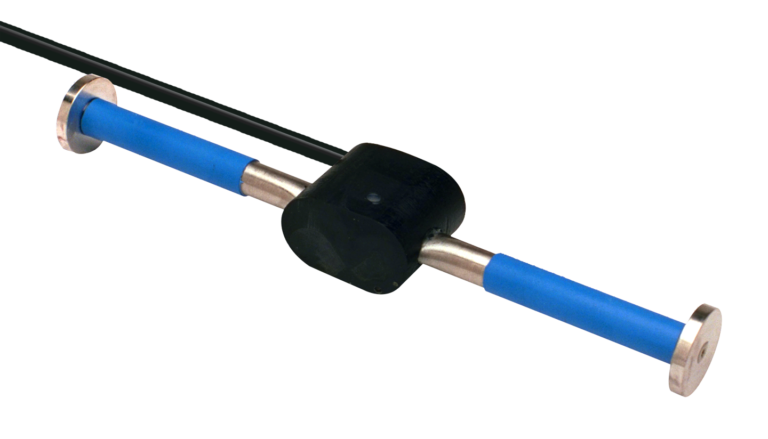 VW Strain Gauges
– Durham Geo's VW embedment strain gauge is used to measure strain in reinforced concrete and mass concrete
– Strain Gauges for Steel – Weldable strain gauges measure strain in steel
– Monitoring stresses in structural members of buildings, bridges, tunnel linings and supports during and after construction
– Monitoring loads in strutting systems for deep excavations
– Measuring strain in tunnel linings and supports
– Strain Gauges for Concrete – Embedment strain gauges measure strain in concrete
– Measuring strains in reinforced concrete and mass concrete
– Monitoring for changes in load
– Types of Strain Gauges: Weldable Strain Gauge, VW Arc-Weldable Strain Gauge, Embedment Strain Gauge